Tackle (3-6)
Tackle Grades 3-6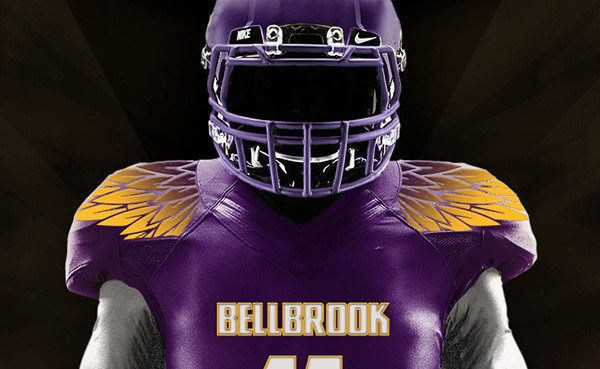 Director: Eric Frantz (email)
Summer Sessions at Fast-Twitch (Grades 4-6): Click Here for Info
2017 BELLBROOK TACKLE FOOTBALL INFO



Code of Conduct (needs completed and turned-in beginning of season)
Physical Form (needs completed and turned-in beginning of season)

Registration is CLOSED
Thank you for those that registered for the 2017.

Cost is $125 per player.
*Scholarship Application

There will be an additional uniform fee payable to FanzStop, which will hold two fittings May 24 (6-8 p.m.) and 25 (6-7 p.m.) at Bellbrook Middle School. The uniform fee ($70-plus tax for jersey and pants) includes a personalized game jersey (name on back) and/or integrated game pants (pads included) that the player keeps. We will use the same uniforms as last year. If your current jersey fits, you do not need to buy a new one. Pants will be sold stand alone. Please bring jersey to fittings. All players will need to purchase the new style of pants.

All players need to attend one of the fittings. Players will also be measured for helmets and shoulder pads. You may come anytime during the time block.

There is no family discount and no earlybird discount.

Wee Eagles Football Promotes Player Safety!!! Each player will be issued a Riddell Speed Revolution helmet. All our helmets have been reconditioned this offseason.

INTERESTED IN COACHING? Complete the coaching application and return to Eric Frantz (via email or contact for address) on or before May 15. You may find the application here: (Click here to download)

Wee Eagle Football 2017 Important Dates



April 20:

Tackle Registration Opens

May 24 & 25: Mandatory Equipment Fitting Wednesday is 6-8 p.m. at Bellbrook Middle School (Cafetorium) & Thursday is 6-7 p.m. at Bellbrook Middle School (Cafetorium)

May 31: Last day to Register
**Registration requests after this date may be accepted – decision will be based on grade's registration numbers and/or other exceptions based on the validity of the situation (i.e. new move-in to district).
July 17-19: Wee Eagles Football Camp (Register Here)

July 22: Equipment Handout at Bellbrook Middle School
6th Grade: 10 a.m.
5th Grade: 10:30 a.m.
4th Grade: 11 a.m.
3rd Grade: 11:30 a.m.

July 24: First day of practice, generally 6-8 PM M-F first three weeks of season

July 31: First day in pads

Aug 5: League weigh-ins @ Brookville (10:00 a.m.) – anyone at or under grade weight limit must attend in order to line up in the backfield. There will be 1 make-up time for those who cannot attend (8/12 8-9 a.m.).

Aug TBD: Pictures at Sackett-Wright.

Aug 14: Practices limited to 4 this week, 1 day no pads

Aug 19: First game vs Piqua

Aug 21: Practices limited to 3 this week and for the rest of the season, 1 day no pads

Please Note:
Full schedule for the season will be posted once released by the league

Wee Eagle Football 2017 Schedule
Start times are for 3rd grade games. 4th, 5th and 6th follow at hour and a half intervals.
Saturday, 8/19: at Piqua 1 p.m.
Sunday, 8/27: vs Massie 1 p.m.
Sunday, 9/3: vs Madison 1 p.m.
Sunday, 9/10: at SDK (Alter) 1 p.m.
Sunday, 9/17: vs Waynesville 1 p.m.
Sunday, 9/24: vs Carlisle 1 p.m.
Sunday, 10/1: at Monroe 1 p.m.
Sunday, 10/8: at Valley View 1 p.m.
10/14 or 10/15: Playoffs
10/21 or 10/22: Playoffs
10/29: Super Bowl

Frequently Asked Questions:

Weight limits for carrying the ball?
SWBL Pee Wee Weight Limits
3rd Grade - 85 lbs
4th Grade - 95 lbs
5th Grade -110 lbs
6th Grade -125 lbs

What equipment/uniform will be provided for my child?
Practice Jersey
Practice Pants
Shoulder Pads
Pad set for pants
Helmet w/ Chin Strap
Mouth guard

What equipment/uniform am I responsible to provide?
Game Uniform & Game Pants will be purchased through FanzStop. Cost is $70 for complete uniform - jersey and pants. Pants will also be sold seprately for thise that do not need a new uniform.
Cup and athletic supporter
Rubber molded cleats
Large water bottle
Pad girdle (optional)

How often will my child practice?
Once school begins three practices a week will be held Monday – Thursday from 6-8 pm at Sackett-Wright Field. Which three days are up to each head coach.

Does my child need a physical?
Yes, all players and cheerleaders must have a physical completed by a licensed physician in the current calendar year for that season before they can participate in any conditioning, practices, or games. These physicals need to be turned in to the Team Mom at the beginning of season.

Physical Form (needs completed and turned-in beginning of season)

Are there any other documents required?
Yes, you will be required to provide a copy of the Wee Eagles Code of Conduct, a copy of the SWBL Parental Consent & Medical Authorization Form and three photocopies of your child's birth certificate. The copies must be of a certified birth certificate issued by the county with the official seal. Hospital birth certificates will not be accepted.

Why do I need three copies of my child's birth certificate?
SWBL - must retain a copy for their records
Bellbrook Wee Eagles - must have a copy on file
Coach/Team Mom - must have a copy in possession during all game times, in the event a child's age is questioned.

What is the SWBL?
The Southwestern Buckeye League is the league association to which the Wee Eagles belong. The league currently consists of teams from all over the Miami Valley. Directions to Road Games

When will we receive a game schedule?
The Wee Eagles receive game schedules from the Western SWBL. Once we receive the schedules for the teams, we will inform everyone about the games for the upcoming season. Check our web site for game schedules and directions to the various locations when they become available.